We found an incredible convert in Hong Kong. DOT is a Star Ferry formerly known as GOLDEN STAR. The owner bought her in 2011 and spent 18 months having her converted at the Leung Wan Kee shipyard in Zhuhai. Leung Wan Kee has maintained Star Ferries for decades.
The owner's inspiration was to create a New York-style industrial loft, rather than to mimic the interior of a yacht. "For the layout, I worked with a house interior designer in France that I knew, who had renovated a huge Dutch sea going barge for his own use," the owner says.
Onboard, there is 6,000 square feet of living space, plus another 4,000 square feet of space for storage and utilities. All four cabins have en suite bathrooms with full baths as well as separate showers.
And check out this loungy cinema room for some entertainment and this roomy office to stay connected when needed.
They retained some of the workmanship of the old boat, while adding high end flourishes. Artists applied specially-treated iron powder to the deck-head upstairs for a rust finish. The original 5 cm thick teak decks were retained and restored to retain its origin look.
Fold up wings were added for additional shade, while 170 square meters of flexible solar panels were installed to provide the bulk of the energy needs.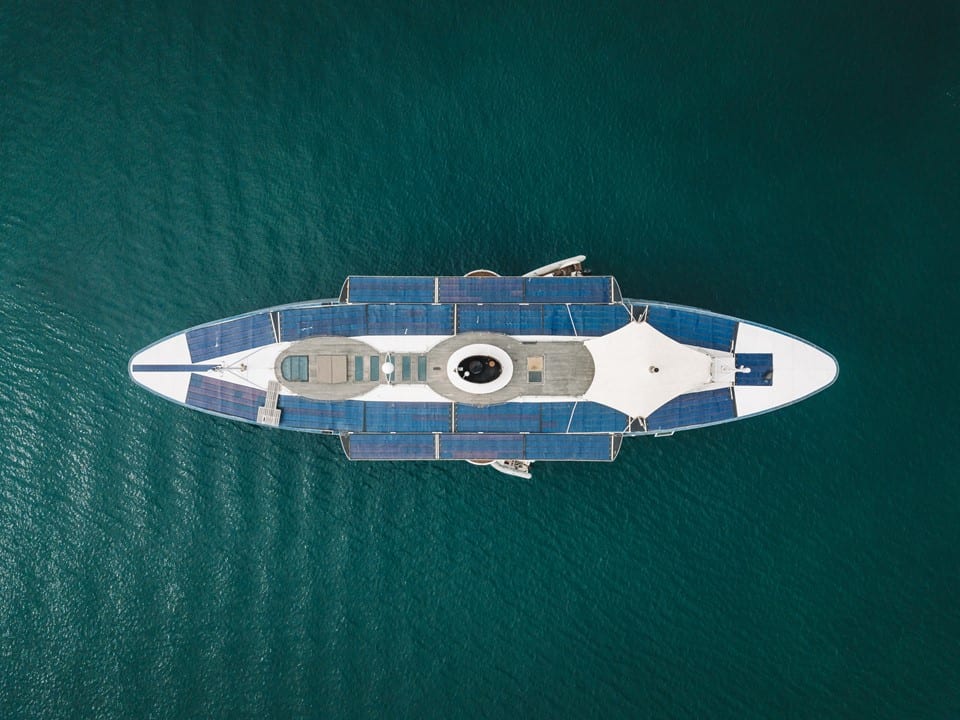 The owner retained the original 540kW MAN main engine. Two old generators were replaced with four sound-proof generators, which provides plenty of redundancy in case of repairs. The owner says the boat is normally fine running on just one generator or off its battery bank.
DOT can be yours for HK$21 million.
https://wp-media-yotlot.s3.amazonaws.com/wp-content/uploads/2021/02/16184326/Featured-Image-Master-V3-6.jpg
1000
1500
Awake
https://yotlot.com/wp-content/uploads/2018/11/YotLot-logo2.svg
Awake
2021-02-25 16:41:42
2021-02-25 16:41:52
DOT, a Converted Star Ferry